All Clear Ecbolic & Uterine Tonic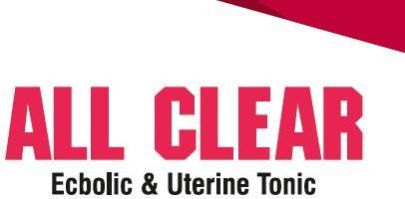 Business Type
Manufacturer, Supplier
Desmodium Gangeticum (Shalparni)
2.50g
Uraria Picta (Prishnparni)
2.50g
Bambusa Arundinacea (Baans Patti)
2.50g
Click to view more
Product Details
Aegle Marmelos (Bilv)
2.50g
Solanum Sratternse (Kantkari)
2.50g
Solanum lndicum (Bari Kateri)
2.50g
Tribulus Trrestris (Gokharu)
2.50g
Stereospermum Suavelolens (Patala)
2.50g
Permna Mucornata (Arni)
2.50g
Gmelina Arborea (Gambhari)
2.50g
Ferrous Sulphate (Sudh Kasis)
0.64g
Copper Sulphate (Sudh Mayurak)
0.32g
Sodii Biboras (Suhaga)
0.64g
Presentation
500 m|.,1 Ltr.
INDICATIONS :
As prophylactic after parturition fortimely expulsion of placentafor secretion of lochial discharge, timely involution of uterus and post-partum oestrus
To facilitate expulsion of retained placenta For treatment of metritis, endometritis & pyometra
For treatment of anoestrus & repeat breeding
To restore milk production associated with uterine disorders
Dosage & Administration :
Cow & Buffalo 100-125 ml.
The dose should he administered orally for 4-5 days alter parturition in
case of retntion of Placenta the dose sholud be tripled and repented after every three hours untill the foetal membranes are expelled out. or as
directed by vetrinarian
Looking for "
All Clear Ecbolic & Uterine Tonic

" ?
Litre